The identity information such as name, university ID (i.e. student / staff ID), programme admitted (for students) and expiry date (if applicable) are printed on the card as well as electronically recorded in CU Link. University members may use CU Link to prove their identity whenever they need to access any services or facilities on campus. Some of the scenarios include:
University Library
Authentication is required when entering university libraries, dealing with resources circulation and logging into public PCs.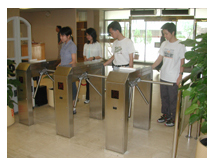 University Sports Facilities Borrowing System
 
University members could easily borrow/ return equipments and enjoy sport facilities using their CU Link in the Physical Educational Unit.